Samsung is one of the most recognizable names in modern smartphones. It has a well-deserved reputation for offering an expansive lineup of great phones with something for just about everyone. This means if you're looking for an Android phone, you'll have a hard time finding a Samsung model that's not worth considering for your needs and budget. In fact, the number of choices can be a bit overwhelming, but the good news is that we've explored the entire range and highlighted the best Samsung smartphones you can buy in 2023.
Like its predecessor, the Samsung Galaxy S23 Ultra gets the nod for the best overall Samsung phone, and that's not just because it's Samsung's premium flagship device. Sure, it's the most expensive in the lineup, but you're getting some incredible bang for your buck with a large and gorgeous display, excellent cameras, and a new processor that offers unprecedented levels of performance. Nevertheless, if you're looking for something more unique, more pocketable, or more affordable, you'll find a lot of other great options on our list in every category, with links to detailed reviews for each.
Samsung Galaxy S23 Ultra
Best Samsung phone overall
Pros
Incredibly powerful processor
Versatile telephoto zoom camera
S Pen adds value
Water-resistant and durable
Long software update commitment
Many interesting features to explore
Large, bright, detailed screen
Cons
Wired charging is complicated, and only 45W
Big and heavy
Why you should buy this: You get a substantial and incredibly well-built smartphone with a gorgeous screen, a top-of-the-line camera, and outstanding battery life.
Who it's for: Anybody looking for the most powerful Android phone on the market.
Why we picked the Samsung Galaxy S23 Ultra:
The Galaxy S23 Ultra may be one of the most expensive phones you can buy, but it packs in enough power and features to make it well worth its price tag. In fact, it delivers incredible value despite its high price, since you're getting nearly everything you could want in a smartphone in a package that will serve you well for years to come.
The biggest thing that might dissuade you from picking up the Galaxy S23 Ultra is quite literally its biggest thing: at 9mm thick, 78mm wide, and 233 grams in weight, this is easily one of the largest smartphones out there. Still, it's in the same class as most other "max-sized" phones, so there's no reason to shy away unless you have especially small hands. The Galaxy S23 Ultra also makes up for that with its rounded edges and simple yet elegant styling.
On the front is a 6.8-inch Dynamic AMOLED display that offers QHD+ resolution with a very crisp density of 550 pixels per inch (ppi). The impressive size and clarity of this screen more than justify the larger phone, and it reaches a peak brightness of 1,750 nits, so you'll have no problem reading it clearly when outside on a bright sunny day.
As with its predecessor, the cameras on the Galaxy S23 Ultra are what really sets it apart from its smaller siblings, and this year you're getting a 200-megapixel (MP) main camera with Laser Auto Focus that's joined by a pair of 10MP telephoto cameras to offer both 3x and 10x optical zoom levels. The combined camera system allows for surprisingly good 30x and 100x digital zooms, offering the kind of advanced photography that simply isn't available on any other smartphone.
Samsung has also packed in its own take on the latest Qualcomm Snapdragon 8 Gen 2 chip. Rather than using an off-the-shelf version of this already-powerful processor, Samsung worked with Qualcomm to create a bespoke chip that's been boosted to new performance heights. To say there's performance to spare here is an understatement. The chip is also very efficient, delivering up to two days of battery life per charge.
Rounding out the package is Samsung's S Pen, which is included with the Galaxy S23 Ultra to let you jot down quick notes without even turning on the screen, annotate screenshots, or just scribble down shorthand just about anywhere on your phone. It's a great productivity tool, and you'll never have to worry about where to keep it as it tucks away in the bottom of your phone when you're not using it.
The Galaxy S23 Ultra retains its crown as not only the best Samsung phone to buy, but it is easily one of the best Android phones to get in 2023. It's extremely versatile with an established design that will appeal to nearly anyone who's willing to spend the money for top-notch performance in a phone that's about as future-proof as you can get.
Samsung Galaxy S23 Ultra
Best Samsung phone overall
Samsung Galaxy S23
Best Samsung phone runner-up
Pros
Sleek and compact design
Comfortable for one-handed use
Very fast performance
Reliable cameras take great photos
Long-lasting battery life
Five years of guaranteed updates
Cons
Base storage is still 128GB
Fast charging up to only 25W
Limited zoom quality past 10x
Why you should buy this: It's a pocket-sized and powerful smartphone perfect for just about everyone.
Who it's for: Someone who wants a smaller Samsung phone, but doesn't want to compromise on specs.
Why we picked the Samsung Galaxy S23:
It's the smallest of the S23 range, but don't count it out for that reason. The Samsung Galaxy S23 is sleek, small, and incredibly powerful — making it the perfect runner-up and alternate option to the S23 Ultra above. While technically a downgrade from the Ultra model in a few select areas, the Galaxy S23 is still more than good enough to justify its inclusion here.
The Galaxy S23 has a rather different design from its larger sibling. The 6.1-inch display and slim bezels mean it's a much smaller device, and much more comfortable to hold as a result. The design is different, too, and includes a flat screen and more rounded corners. Aside from that, everything else involving the display is much the same as the more expensive phone, including the incredible Dynamic AMOLED 2X tech with a 120Hz refresh rate. It's the same stunning screen on a smaller frame, which is a big win for those who don't like massive phones.
The internal hardware is also very similar. The Snapdragon 8 Gen 2 for Galaxy processor is just as amazingly powerful as it is in the S23 Ultra, and the 8GB of RAM is the same amount as on the Ultra's base model. The base storage of 128GB is a bit disappointing, though unless you're a major app addict or media hog, you should be okay. The battery is solid, too, and is capable of lasting for two days with conservative use. Recharging is a bit disappointing at just 25W, but it's still speedy enough.
There's a 50MP main camera, a 12MP ultra-wide lens, and a 10MP telephoto lens with a 3x optical zoom. It's not the match of the S23 Ultra's 200MP-headed camera, but it's still a great shooter that takes solid shots across a wide range of lighting situations. It's a camera you'll be proud to use, and Samsung's post-processing makes the colors pop, even if it is unnatural.
The Samsung Galaxy S23 is the cheapest of Samsung's new flagship range and starts from $799. While you'll lose some elements of what makes the S23 Ultra unique, including the S Pen, those compromises don't massively impact the phone. That means it's still an amazing piece of tech, and a great choice if you want a small, but powerful, Samsung flagship.
Samsung Galaxy S23
Best Samsung phone runner-up
Samsung Galaxy S23 Plus
Best large Samsung phone
Pros
Comfortable, practical design
Beautiful AMOLED display
Outstanding performance
Storage starts at 256GB
Two-day battery life
45W wired charging
Cons
Bland camera design
Only 3x optical zoom
Awkward price
Why you should buy this: The S23 Plus is a big phone with a lot of what makes the Ultra amazing, but at a cheaper price.
Who it's for: Someone who doesn't want the Ultra, but still wants a big, powerful Samsung flagship.
Why we picked the Samsung Galaxy S23 Plus:
The S23 Ultra is a big and powerful flagship, but it's not for everyone. If you don't want or need everything the Ultra offers, then the Samsung Galaxy S23 Plus is an excellent alternative. This big-screened smartphone looks great, is just as powerful as its larger sibling, has an excellent camera, and lots more. If you're looking for a large Samsung phone, the Galaxy S23 Plus is a great choice for you.
The main reason you're likely to want a large phone is for a large screen, and the S23 Plus certainly delivers on that front. The 6.6-inch display has Samsung's Dynamic AMOLED 2X tech, so it has a 120Hz refresh rate for unbelievable smoothness, and a crisp 393 pixels-per-inch 1080p resolution, all protected by Gorilla Glass Victus 2. It's stunning, with rich colors, deep blacks, and a high refresh rate that makes using it feel like a dream.
That sort of performance wouldn't be possible without powerful specs, and the S23 Plus's specs are powerful indeed. It has the Snapdragon 8 Gen 2 processor, and it's just as powerful and capable as in other recent smartphones. The storage starts at 256GB as well, so the powerful processor and large amounts of storage mean this is a phone you can use for years before needing upgrading. That's reflected in Samsung's generous update schedule too, with the S23 Plus being guaranteed four years of major Android updates, and five years of security updates. That means you could still be getting Android updates up until Android 17 — and it's hard to argue against that sort of value.
The battery is strong and lasts a day and a half with regular use. Charging supports up to 45W charging, which is fast enough to recharge fully in about an hour, and it has reverse wireless charging for accessories, as well as normal wireless charging too. The camera doesn't have the 200MP sensor from the Ultra, but it's still impressive, with a 50MP main lens, a 12MP wide-angle lens, 10MP telephoto lens with 3x optical zoom, and a 12MP selfie lens around the front. It's a great camera, with all-around great performance, with nary a bad image taken. Edge detection is excellent, and so are night-mode photos. The biggest difference between this and the S23 Ultra's incredible camera is the zoom, and if that's important to you, you may want to think about paying the extra for the Ultra model. But even with that in mind, this is an excellent camera you won't regret using.
The Samsung Galaxy S23 Plus starts from $999, and it fully justifies that price tag. If you're looking for a Samsung flagship with a big, beautiful screen, at a lower price than the ultra-premium S23 Ultra, then the Samsung Galaxy S23 Plus is an excellent choice.
Samsung Galaxy S23 Plus
Best large Samsung phone
Samsung Galaxy Z Fold 4
Best Samsung phone for productivity
Pros
Usable cover screen
Excellent multitasking features
Inner screen is great for games and video
Reliable and fun camera
Water resistant and durable materials
Cons
Heavy use kills the battery
Slow charging
Why you should buy this: Now the Galaxy Note is no more, the Galaxy Z Fold 4 is a productivity buff's dream, with its dual display, up to 1TB of storage, and robust yet light Armor Aluminum frame.
Who it's for: Anybody who wants a productivity punch and top-notch specs bundled into a foldable format.
Why we picked the Samsung Galaxy Z Fold 4:
Put simply, the Galaxy Z Fold 4 is the best Samsung phone for productivity on the market right now, sporting a cool foldable form factor. You can pick the phone up in Gray Green, Phantom Black, Beige, or a Samsung-exclusive Burgundy color. The first thing you'll notice is the productivity-focused dual screens: The 6.2-inch front display and 7.6-inch main display both boast a 120Hz variable refresh rate that adapts depending on what you're doing. There's a side-mounted fingerprint scanner, and a robust yet lightweight Armor Aluminum frame with Gorilla Glass Victus+ on the cover screen and back, for added durability.
With the Z Fold 4, you're getting the Snapdragon 8+ Gen 1 chip in both the U.S. and the U.K., with 12GB RAM and up to 1TB of onboard storage (though there's no microSD card slot). The 4,400mAh battery should see you through most days with plenty of change, and there's up to 25W wired charging and 15W wireless charging, though there's no charger in the box.
On the camera front, there's a 50MP main sensor, a 12MP wide-angle lens, and a 10MP telephoto with 3x optical zoom and digital 30x Space Zoom mode. There's also a 4MP Under Display Camera.
But where the Galaxy Z Fold 4 stands out is its productivity features. There's support for the S Pen, but no storage slot, though you can pick up a case with included storage. The Z Fold 4 is running Android 13 which gives you the Taskbar. This works like a Windows PC taskbar to allow quick switching between apps, yet handily disappears when you don't want it — for example, when watching full-screen videos.
You can use up to three apps on the unfolded screen and add a fourth app over the top, which can be used as a floating window. Altering the shape and size of each app window is a breeze, and it's really easy to activate multitasking. The Galaxy Z Fold 4 also works with Samsung's DeX mode, turning your smartphone into a desktop computer as well as providing access to Microsoft's Xbox Games Pass. You'll also get 5G connectivity and four Android OS updates, as well as five years of security updates, ensuring this phone will last for years to come.
Samsung Galaxy Z Fold 4
Best Samsung phone for productivity
Samsung Galaxy Z Flip 4
Best foldable Samsung phone
Pros
Flatter design looks and feels fantastic
Bespoke customization is unmatched
Excellent main display
Blazing fast performance
Good, fun cameras
Cons
Battery still only lasts a day
Limited cover screen functionality
Why you should buy this: It's the follow-up to Samsung's best-selling foldable, the Z Flip 3, with a bigger battery, faster performance, slimmer hinge, and many more subtle — but important — improvements.
Who it's for: Those who simply must have the latest and most popular foldable.
Why we picked the Samsung Galaxy Z Flip 4:
The Z Flip 4 takes everything the Z Flip 3 offers — cute, compact design, a durable hinge, and excellent performance — and supercharges it. This time around, you're getting an improved, refined design, with a slimmer hinge that feels just as satisfying to flip open and closed. The Z Flip 4 also boasts a flatter frame, giving it a sleeker, more appealing aesthetic compared to the rounded frame of the Z Flip 3.
There's a 1.9-inch AMOLED cover screen with 260 x 512 resolution. Samsung has kept the cover screen the same size, but it's still great for managing notifications or checking your calendar. Flipping the phone open reveals a 6.7-inch AMOLED display with a 2640 x 1080 resolution and variable 1Hz to 120Hz refresh rate.
The Z Flip 4 packs Qualcomm's Snapdragon 8 Plus Gen 1 chip, with 8GB of RAM and up to 512GB internal storage. This phone is fast; really fast. It flies through every task, handling multitasking with ease, and the processor combined with the variable refresh rate means everything is super smooth, too.
The Galaxy Z Flip 4 boasts improved battery life compared to its predecessor, courtesy of a beefier 3,700mAh dual-cell battery. You also get 25W wired charging, taking you from 0-50% charge in around 30 minutes. There's even support for fast wireless charging and wireless PowerShare.
Finally: cameras. You're getting a 12MP primary lens with optical image stabilization and dual pixel autofocus, a 12MP ultrawide camera, and a 10MP selfie camera. The main camera's sensor allows for 65% brighter shots, meaning improved performance in low-light conditions. Added features like FlexCam, which lets you partially fold the phone, prop it up, and take photos at different angles, are a nice touch, and you can use this feature in Instagram, WhatsApp, and Facebook, as well as in the main camera app. There's also Quick Shot mode, which lets you take portrait mode selfies and preview the results in the phone's actual ratio.
Samsung Galaxy Z Flip 4
Best foldable Samsung phone
Samsung Galaxy A53 5G
Best value Samsung phone
Pros
Pretty design
IP67 water-resistance
Camera is great for social media
Vibrant screen
Two-day battery life
Cons
Performance can be sluggish
Not an upgrade to the A52 and A52S
Why you should buy this: As well as excellent battery life and a 6.5-inch 120Hz screen, the A53 5G packs a range of useful features, including a microSD card slot and IP67 water resistance.
Who it's for: Anybody looking for a capable, great value 5G phone offering two-day battery life.
Why we picked the Samsung Galaxy A53 5G:
For $450, the Galaxy A53 5G is a no-brainer. It looks more expensive than it is, packs a gorgeous 6.5-inch super AMOLED screen and 5,000mAh battery, and comes in white, black, or two eye-catching shades, a sky blue or pale peach.
Weighing in at just 186 grams, this phone is a little lighter than its predecessor. The 6.5-inch screen has a 120Hz refresh rate you can easily lock at 60Hz to save battery life. Everything looks great, with vibrant colors and excellent contrast levels.
Under the hood is the octa-core Exynos 1280 chip with 6GB or 8GB of RAM, so the A53 5G should be able to power through most tasks. There's up to 256GB of onboard storage and, notably, a microSD card slot to add more. You can also allocate up to 6GB of internal storage to use as virtual RAM — great for multitasking.
The battery here is a stand-out. The 5,000mAh cell gives you two-day battery life with general use at 120Hz, though this will likely drop with heavier usage or gaming. If you're fed up having to charge your phone at the end of every day, this is the device for you. You also get 25-watt wired charging, but there's no wireless charging, and no charger in the box, either.
If we had to say anything negative about the A53 5G, it's that the 3.5mm headphone jack has sadly gone the way of most other Samsung phones.
For the price, the A53 5G packs a ton of features, including an IP67 water resistance rating, microSD card slot, and 5G. This is also the first A series phone to offer four Android OS updates and five years of security updates, making it an excellent, future-proof choice.
But before you dive into your wallet and start throwing dollar bills at Samsung, we have a major caveat: The Samsung Galaxy A54 is on the way, and it's highly likely to replace its predecessor on this list. So if you're looking for an excellent midrange smartphone, keep your powder dry until the verdict is out on the new Galaxy A54.
Samsung Galaxy A53 5G
Best value Samsung phone
Samsung Galaxy A14 5G
Best cheap Samsung phone
Pros
Only $200
Large display with a 90Hz refresh rate
5,000mAh battery
50MP rear camera, 13MP selfie camera
Respectable performance
Unique, textured back
Cons
Secondary cameras aren't impressive
No water or dust resistance
Fast charging up to 15W only
Why you should buy this: It has no business being this good when it costs just $200.
Who it's for: Anyone looking for a Samsung phone that doesn't break the bank but still performs very well.
Why we picked the Samsung Galaxy A14 5G:
The $200 phone market is usually where you'll find phones full of compromises. A low price often means harsh cost-cutting, and as a result, you're unlikely to find something that can be described as "good". That's not the case with the Samsung Galaxy A14 5G, which is a true diamond in the rough.
You'll struggle to define the A14 as a stunner, but it's not a bad-looking smartphone. The body is made from plastic, but it has a unique texture that feels good and adds grip, something glass-bodied phones can struggle with. The display is worth pausing over, though. It's a 6.6-inch LCD with a 1080p resolution, which isn't bad by itself — but the inclusion of a 120Hz refresh rate definitely pushes this phone into a higher grade. There isn't any water resistance, but hey, you can't have everything, especially at this price.
It's modestly powered by a MediaTek Dimensity 700 processor, the same chip from the A13. We found it stuttered a little during use, which reduced the smoothness of the 120Hz refresh rate, and it was sometimes sluggish to open apps, so make sure to clear out those running apps once in a while to keep it speedy. Storage starts from 64GB, which is relatively low these days, but there's the option to use a microSD card to expand that by 1TB. It comes with Android 13, and Samsung has committed to two major Android updates and four years of security updates — a strong promise for a budget smartphone.
The main camera is impressive for a $200 smartphone. The main lens has a 50MP sensor, and it consistently took good, crisp images that are more than good enough for social media. Surprisingly for a cheap phone, it even takes clear night mode shots too. The second lens, a 2MP depth sensor, is there to assist the main camera in portrait shots, so it's really technically a dual-lens system. Unfortunately, the third lens, a 2MP macro lens, continues the strong tradition of macro lenses being a bit rubbish, and it's not one to rely on at all. Stick with the 50MP main lens instead, you'll probably be pleasantly surprised by how good your shots are for a $200 smartphone.
The A14 has a 5,000mAh battery, and it's capable of going for two days on a single charge. That's helpful, as the charging rate is limited to 15W, so you'll be wanting to leave it for a little while when charging. There's no wireless charging, which makes sense on a phone this cheap.
The Samsung Galaxy A14 5G is available now, with prices starting from $200. As always, keep an eye on the sales, and you could snag this excellent phone for even cheaper. It's available on all major U.S. carriers, though the U.S. only gets the rather boring plain black color.
Samsung Galaxy A14 5G
Best cheap Samsung phone
Samsung Galaxy XCover6 Pro
Best rugged Samsung phone
Pros
Rugged phone withstands drops up to 5 feet
IP68 rating
Replaceable battery
MIL-STD-810 certified
Expandable storage
Cons
Rugged style might not be for everyone
No satellite connectivity
Why you should buy this: It's a rugged, military-grade phone with an IP68 rating against sand, water, dust, and dirt that can withstand falls up to 5 feet — and it boasts a replaceable 4,050mAh battery.
Who it's for: Those who want a rugged phone for outdoor adventures or work in the field.
Why we picked the Samsung Galaxy XCover6 Pro:
Although it's designed for industrial use, the Samsung Galaxy XCover6 Pro is a great choice for anybody who's tough on their phone. It can withstand falls up to five feet, has an IP68 rating, making it resistant to dirt, dust, water, and sand, and is MIL-STD-810 certified, meaning it won't pack up at high altitudes or in hot conditions. There's more to this phone than its rugged features, though — it boasts a 6.6-inch 1080p edge-to-edge display with Gorilla Glass Victus+ and a Snapdragon 778G octa-core processor with 6GB of RAM and 128GB of internal storage (that can be upgraded with a microSD card). The screen boasts Enhanced Touch capabilities so that you can use it with wet hands or gloves, and the phone runs Android 12. There's also both 5G and Wi-Fi 6E support, although Samsung hasn't thrown in any emergency satellite connectivity features yet.
Its best feature is its replaceable 4,050mAh battery that supports 15W fast charging and can be swapped out, not to mention the pogo pin connectors for docked charging or connecting accessories like scanners and card readers — the XCover Pro is EMV Level 1 certified, so you can also use it as a point-of-sale terminal.
There are two cameras on the back — a main 50MP camera and a secondary 8MP ultrawide one — plus a 13MP front-facing camera and a headphone jack, so you don't need to worry about losing your wireless earbuds at work. You can pick up the XCover6 Pro for $600 on Amazon right now.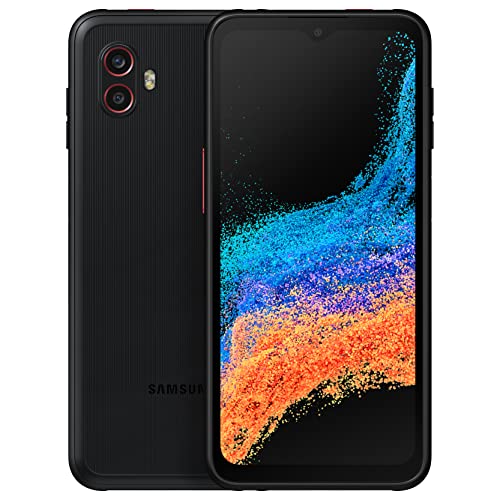 Samsung Galaxy XCover6 Pro
Best rugged Samsung phone
Editors' Recommendations